Arkansas Alumni Association announces Senior Honor Citation winners
Arkansas Alumni Association announces Senior Honor Citation winners
SIIRE scholarship recipient, Ailon Haileyesus was announced as one of winners of the 51st Senior Honor Citation by the Arkansas Alumni Association. This honor recognizes the top two seniors on campus. The announcement was made May 5th during the Cardinal & White Banquet at the Janelle Y. Hembree Alumni House.
Haileyesus, who is graduating with a bachelor's degree in biomedical engineering, said she was surprised and elated upon hearing she was one of the Senior Honor Citation recipients.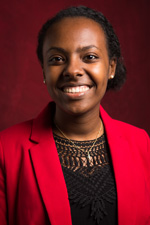 "Receiving this recognition is a tremendous honor. I would like to extend my gratitude to professors, friends, and family on campus and across the world. I have been very blessed by these people – including my academic adviser Dr. Michelle Kim and research mentor Dr. Kartik Balachandran – who have challenged me and been instrumental in equipping me to push forward," Haileyesus said. "The University of Arkansas has provided many opportunities for students in research, international travel, student organizations, and much more; I am glad that I took advantage of these resources and that the university has recognized my efforts. This is a great motivator to continue my ambition of making a global impact."
Haileyesus is president and co-founder of the U of A chapter of Engineering World Health, and after completing her graduate studies, Haileyesus plans to obtain a doctorate in biomedical engineering to design inexpensive technology that will revolutionize the way medicine is practiced, enhancing the quality of health in developing countries.


Read the full Newswire Story.